Welcome word from the Direction
Dear Visitor,
On behalf of the Augustin Cournot Doctoral School (University of Strasbourg), we are pleased to welcome you on our website.
Our commitment is to provide our PhD candidates in economics, finance and management at the University of Strasbourg with a comprehensive scientific education in line with the highest international standards.
Our program covers a wide set of courses, from transversal programs to the specialized seminars. This program has two main objectives. First, we provide students with knowledge of the most advanced methods in economics, finance, and management. Second, we prepare our students to their future insertion in either the academic or the private sectors.
Our doctoral school welcomes about 100 PhD students belonging to the five research units attached to our school: BETA, GESTE, HUMANIS, IRIST and LARGE. The members of theseresearch centers mainly work in economics, management, finance, and epistemology.
Since several years, our doctoral school has implemented and developed a partnership with internationally reputed programs (Konstanz, Germany, and Pisa, Italy). More recently, we have established a partnership with in Vietnam (CFVG program). Our school also pioneered the Augustin Cournot Doctoral Days: the ACDD is an annual international symposium welcoming PhD students who present and discuss their works with other international researchers.
Our doctoral program is open to graduates with a Master's degree or equivalent, in economics, finance or management. To apply for a PhD at the Augustin Cournot Doctoral School, the candidates must be supported by a local supervisor, belonging to one of our five research units.
Each year, several scholarships are offered to the best candidates applying for a PhD. Other ways of being financed may be obtained via other sources of support (regional funding, national or international contests, etc.). Students working as professionals are also welcome.
Strasbourg is a choice destination, thanks to the reputation of excellence of its University, and also because this beautiful city, located at the crossroads of Europe, welcomes prestigious European institutions.
If you believe that the Augustin Cournot Doctoral School meets your aspirations, do not hesitate to have a deeper look at our website, and ask any inquiry to our secretariat.
We look forward meeting you in Strasbourg !
Professor of Economics – Director of the Doctoral School Augustin Cournot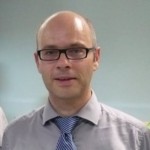 Professor of Finance – Deputy Director of the Doctoral School Augustin Cournot